My Favourite Ubuntu Touch Apps (May 2015)
Did you know that there are now about 1500 entries in the App Store, which is 50% more than just two months ago? But wait! It's not just webapps, there are a lot of great native apps too!
I tried all of the following apps on a bq Aquaris E4.5 Ubuntu Edition running OTA-3.5, so they should work on any phone.
Beru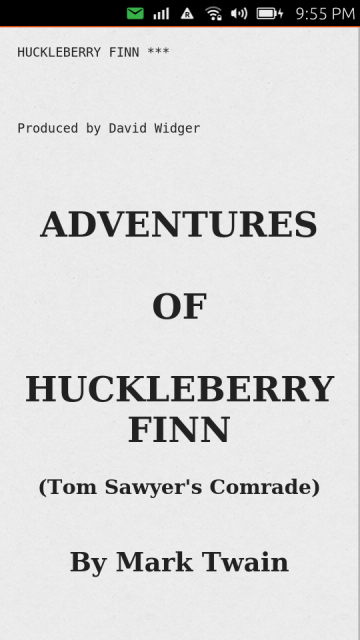 Beru is an eBook reader for ePub documents. I use it quite a lot while traveling.
Calculator
I work for an university and we engineers calculate things all the time. Of the several calculator apps in the store I like the "standard" one from the Ubuntu Core App Developers the most. It supports all the features I need.
Dekko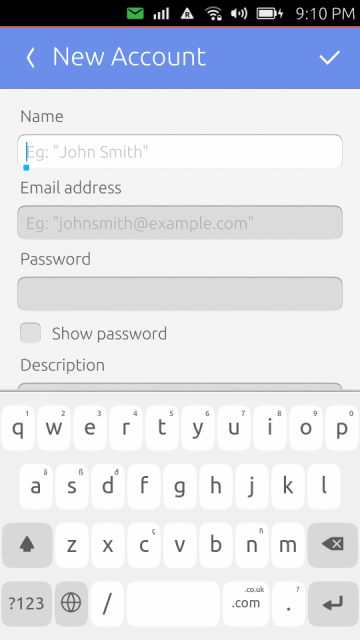 I get a lot of e-mails every day and Dekko is the only e-mail client in the store. It mostly works, but still needs a lot of work, e.g. a more responsive interface, support for sub-folders etc. Sometimes it even crashes or refuses to work because it isn't happy with server responses.
Document Viewer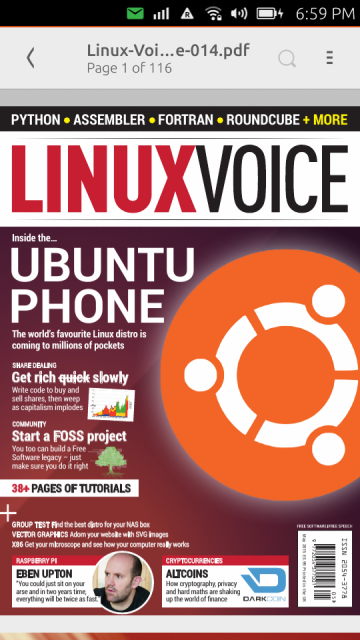 I remember when I had to use PdfjsViewer to view my "Linux Voice" issues, and it was so slow that I could actually see how every single item on the screen was rendered. But now the Document Viewer from the Ubuntu Core App Developers has been improved so much that I actually use it all the time. It recently got support for SD cards and renders PDF documents through a native library, on all CPU cores at once. It renders my latests Linux Voice PDF issue so fast that the bq Aquaris E4.5 can actually keep up with one of my laptops.
Support for more filetypes, like OpenDocument, seems to be planned.
DowNow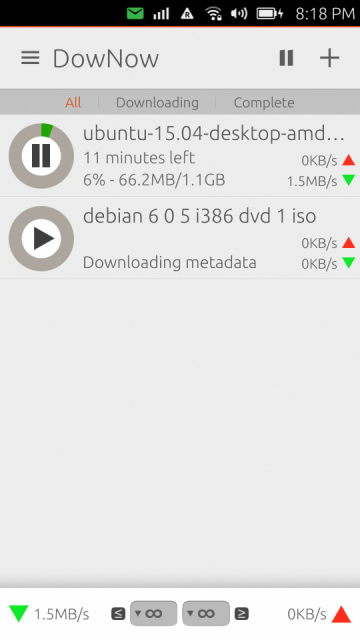 This BitTorrent downloader has been in the store for quite a while. It supports Magnet links and has a built-in search frontend for the YIFY and Kickass Torrents websites.
The "good" news: It works perfectly.
The "bad" news: It can't run in the background because of the App Lifecycle, and it doesn't use the Content Hub, so all downloads go to the hidden app folder.
fahrplan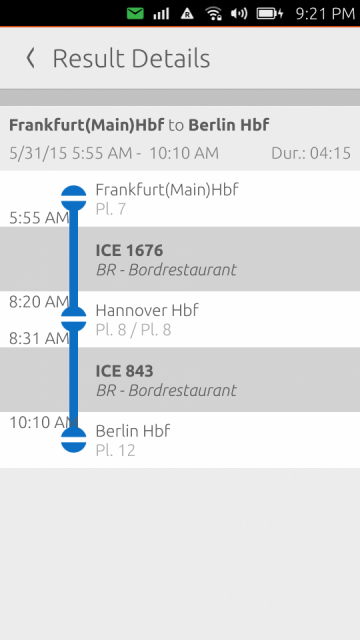 My main means of transport are trains, so I absolutely need some replacement for the Deutsche Bahn Navigator. fahrplan allows me to query the timetables of many european operators.
Funds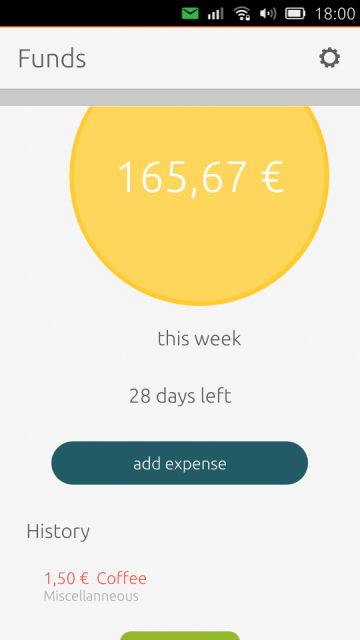 Funds is an small personal finance management app with great design. You set up your monthly allowance and a list of categories, Funds then shows you how much money you have left to spend today, this week and this month. As you keep adding expenses and additional income the numbers adapt, and at the end of the month you can have it roll over the remaining amount for this month to the next one.
The app does what it works, but it looks like you currently cannot edit or delete an existing expense/income record.
As one of the reviewers says: "The best financial advice is from monocle wearing whales."
GPS Navigation
The bq Aquaris E4.5 Ubuntu Edition comes with a turn-by-turn GPS navigation app based on Nokia HERE Maps, but all other devices don't. So Marcos Costales combined a lot of great things and put them into one app: free, worldwide, online, OpenStreetMap-based turn-by-turn navigation with all the features you would expect, like voice output. The version number is at 0.2, but the app already looks incredibly polished and works as expected for many people.
Level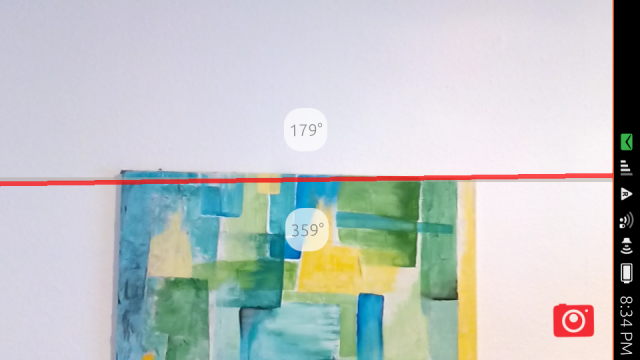 I've always suspected that this picture, and many other things in my apartment, are not level. Now I know for sure.
Music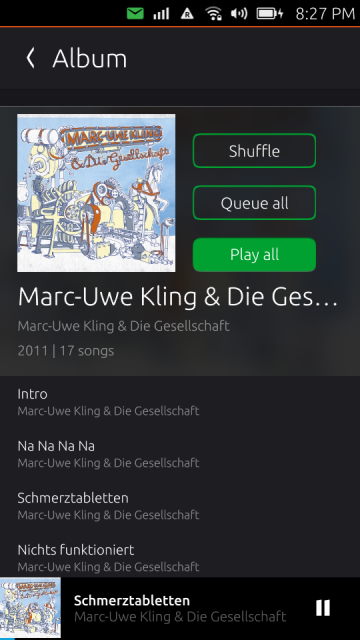 This is one of the core apps, and it is actually very, very good. Support for more audio formats (e.g. FLAC) would be nice though.
UPDATE: This was entirely my fault, it plays back FLAC just fine and supports a lot of other codecs too. Apologies to Andrew Hayzen :-/
Network Scanner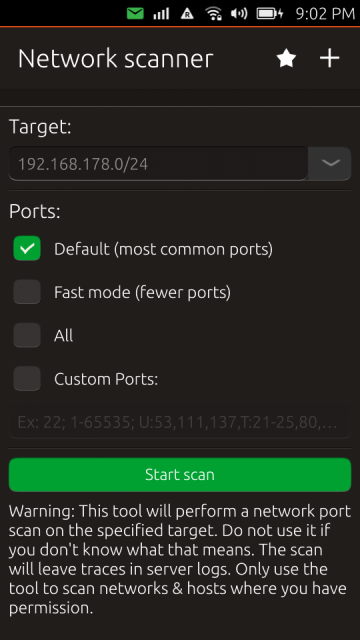 One of the apps on my "we can't build this yet because of restrictions" list was a Network Scanner. Then Michael Zanetti just went and not only built it before me, he even built it around nmap. Michael is still my hero, but for obvious reasons I now also have to hate him a little.
Podbird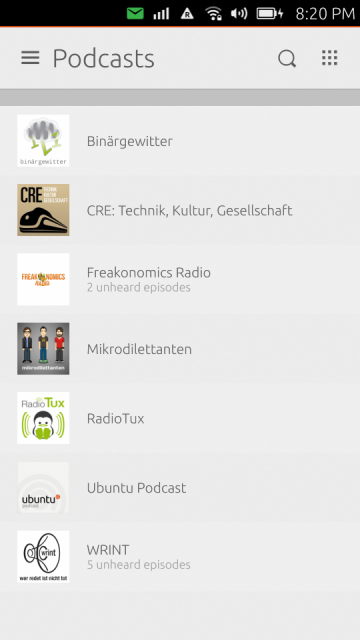 My daily commute to work takes about two hours, so I listen to a lot of podcasts. Podbird is the perfect app for that, it even has a built-in search engine frontend so you don't have to type in all those feed URLs.
There could be some more features, like a common list of all downloaded episodes of all podcasts.
Shorts Reboot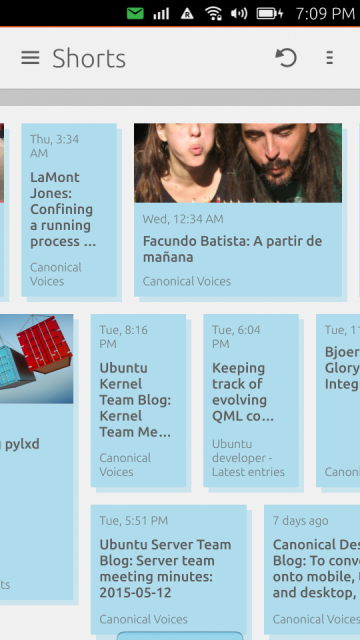 One of the most important features I need in a smartphone is a proper offline RSS feed reader. I am quite unhappy with all the existing apps in the store, because no single one supports all the features I need. Currently I use "Shorts Reboot" because it has some additional features over the standard version.
Socket World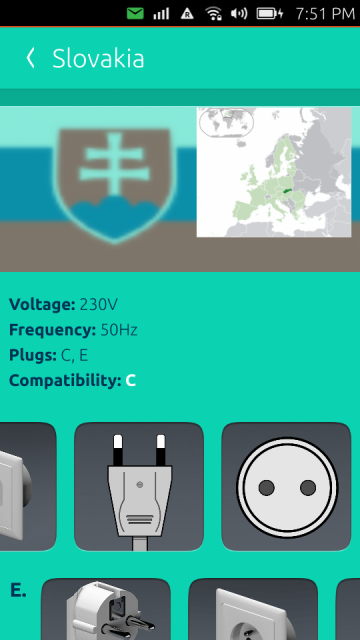 I travel quite a lot and can never remember which power adapters to bring with me, so Socket World comes in very handy.
This app is so polished (it even has an Intro wizard!), I think it sets the bar for all future single-purpose database apps.
Tagger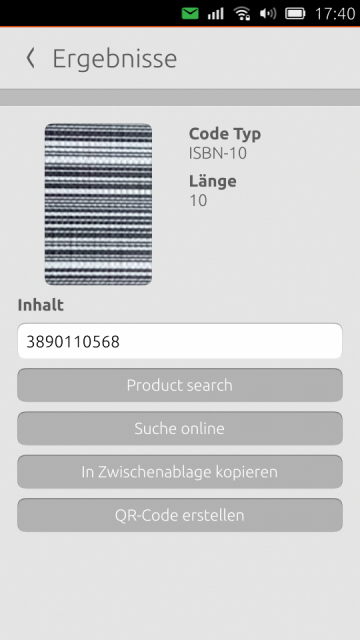 Tagger was one of the first native apps in the store and does exactly what it has been built for: you can create and save QR codes and scan barcodes and QR codes with the camera.
Telegram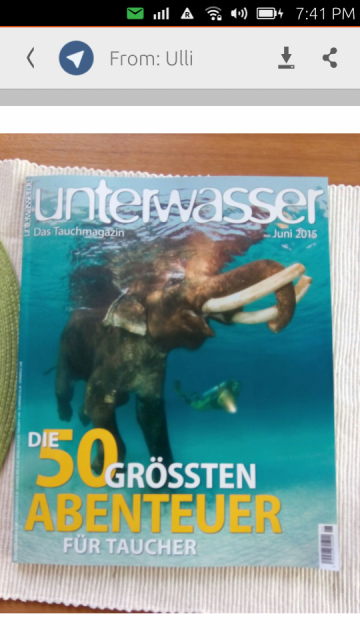 I've already been using Telegram on Android before I got an Ubuntu phone, so changing over was no problem. There are some bugs and sometimes the app is very slow, but I hear many fixes have already landed.
The most "problematic" point is that the app does not support the new Telegram Stickers, and everybody and their mother keeps sending me those things 🙂
Timer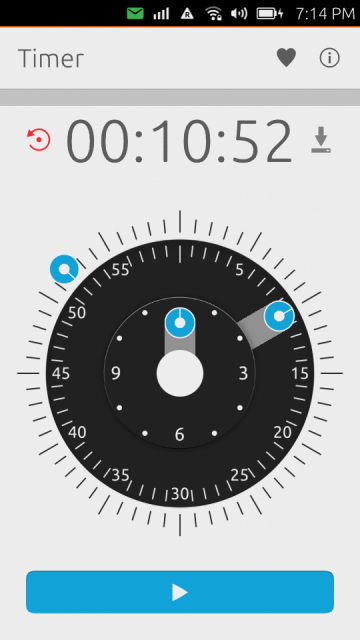 We all need timers for various things, and this app does exactly what it says. It even keeps counting when put in the background, which is no small feat regarding the App Lifecycle imposed by the system.
uRadio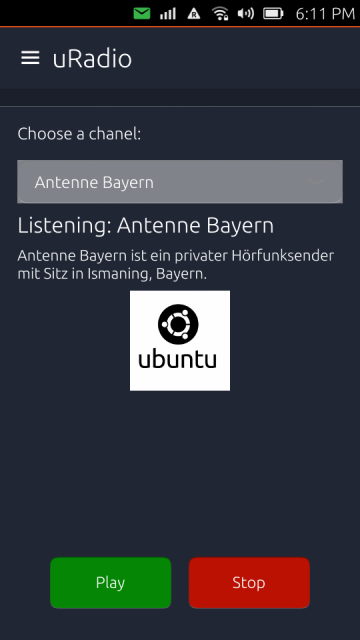 For quite some time people have asked about a general-purpose online radio streaming app that would keep playing if put in the background. uRadio can do that because it uses the Media Hub to playback online streams. The user interface is simple, but the settings dialogue is a bit too complicated for my taste. Also it comes with a list of just five preset stations, no import and no search functions, so one has to fiddle around quite a bit until all the stations one wants to listen to have been manually added.
There are some other online radio apps in the store, but they are limited to specific providers and/or stations.
uReadIt
uReadIt was one of the first apps in the store and is a native Reddit reader. I bought the "Dev" version during Michael Halls "social experiment", and he has shipped a couple of updates since then.
VG Video Downloader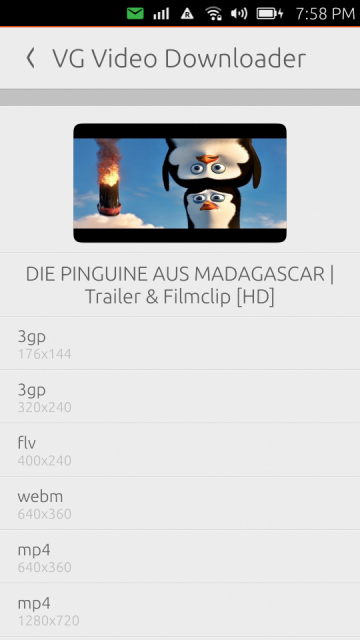 Feed this app a link to a video on any popular video streaming website and it will download the video to your phone. I suppose it taps into some online service in the background, otherwise I can't explain how you put support for more than 150 providers in just 20 kilobytes.
It works rather well, but currently does not use the Content Hub, so you can't choose what to do with the file and where to put it. Instead it saves everything to ~/.local/share/ubuntu-download-manager/vulgry.johangm90/Downloads.
Wake It!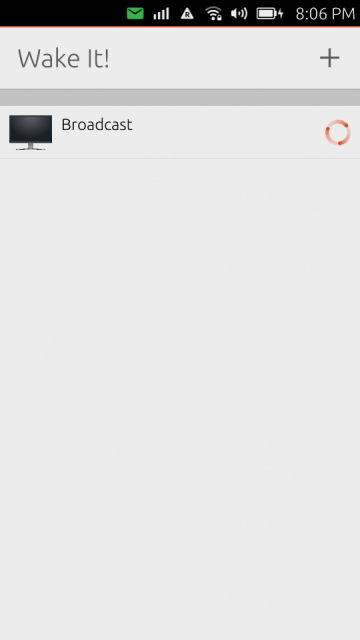 Very small, very simple, very useful: wake up hosts on your local network by sending them magic network packets. I find it funny to just send a packet to the broadcast address on foreign networks and then watch if something happens.